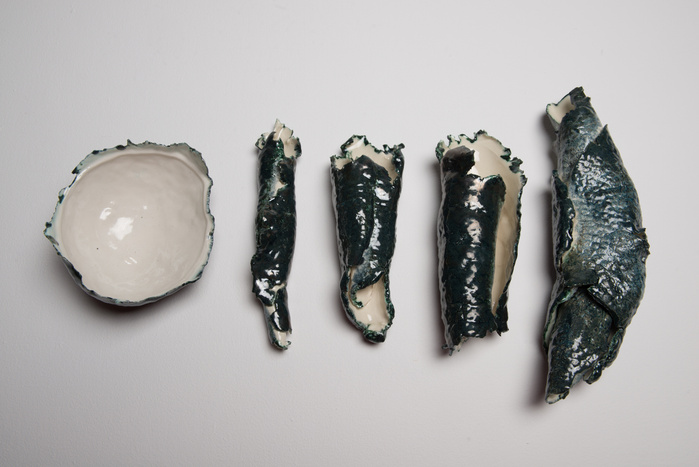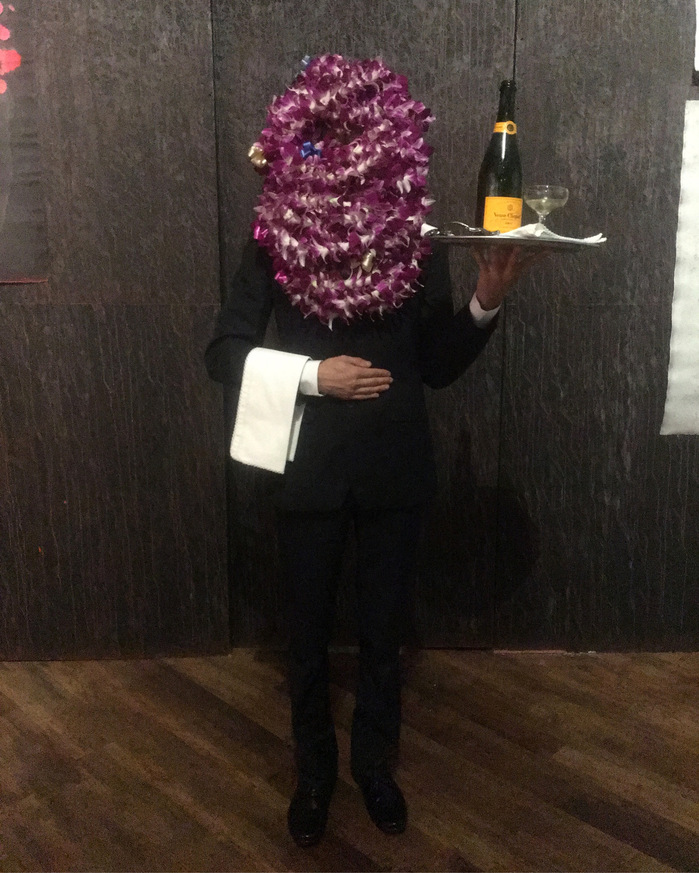 Te atua vahine mana ra o Pere (The Great Goddess Pere) - L' Aube où les Fauves viennent se désaltérer is a two-room installation part of the 1st Honolulu Bienniale in which Alexander Lee reflects on French Polynesia and its nuclear history through Pere (or Pele), the Polynesian goddess of fire who is said to have travelled from Tahiti to Hawaiʻi. Through it, Lee sets up a visual parallel play between the French Polynesia (Tahiti) of his childhood and the American Polynesia (Hawaii), site of the Biennial, and reconstructs a facetted present narrative of Polynesia through its multiple colonial empires and their respective nuclear histories.
In the Antechamber, two charred vitrines encase a series of porcelain artefacts: flutes, fingerlinks, funnels, fishing lures, genital wraps, ceremonial utensils, and memory helpers. Lee provokes viewers to contemplate whether the objects have been irradiated by an explosion or if they are archaeological finds scorched by volcanic fire. The artist's reverse gesture is a reference to the West's curiosity and fascination toward objects and artifacts from indigenous cultures, but also to the burning of traditional Polynesian artifacts during evangelization.
The main Salon room displays monotypes that visually allude to the 46 aerial nuclear tests that France conducted from 1966 until 1974 on the atoll of Moruroa (193 total detonations between 1966-1996), the year of his birth. For Lee, the image of the nuclear explosion is a historical extension of Pere's volcanic eruption. Mushroom clouds thus become potent symbols of the social, political and environmental impact of modernity, and a very present ghost in today's global power plays.
The Salon was the site of three performances: Hula for Pele, performed by Kumu Marques Marzan; Taiko, performed by Kenny Endo and Eric Chang simulating the rumble of a volcanic eruption culminating into nuclear fireworks; and Champagne! a serving of Veuve Clicquot - all referencing the contrasting realities in the colonial history of Polynesia.