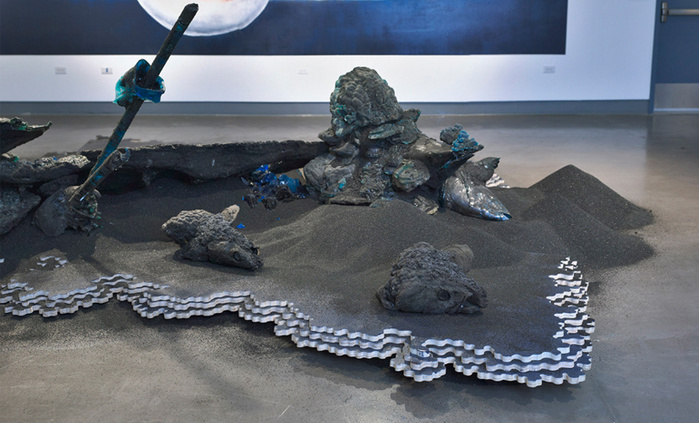 EXPANDING-EEL-DEVOURER
2009
As started in his previous project, RECITATIONS FROM THE GREAT FISH CHANGING SKIES, Alexander Lee continues his exploration of the relationship between paintings and sculpture as a narrative form for dissemination of cultural (and religious) programs.
In EXPANDING-EEL-DEVOURER, Lee re-uses elements of previous sculptures (THE GREAT FISH CHANGING SKIES as well as THE DEPARTURE OF THE FISH), and reconfigures the body of the fish into another tableau as it progresses through its epic transformation.
This main sculptural body is supplanted by wall paintings, the main one in the star shape of a wind rose traced with pencil on the wall. Its title, Aldébaran, Moruroa July 2nd 1966, 1st phase recounts France's first blast on the island of Moruroa: named Aldébaran, the explosion marks the beginning of 30 years of experimentation in the Pacific, and with it, an economic boom in the islands, along with a profound cultural change in its traditional way of life.
EXPANDING-EEL-DEVOURER served as a backdrop for a performance titled EXPANDING-EEL-DEVOURER from the Great Fish Changing Skies.
From Low-Hill to Expanding-Eel-Devourer, 2009
Volcanic sand, coal slag, silicon carbide, glass, aluminum, epoxy, mineral pigments, wood, acrylic, polyurethane
Dimensions variable